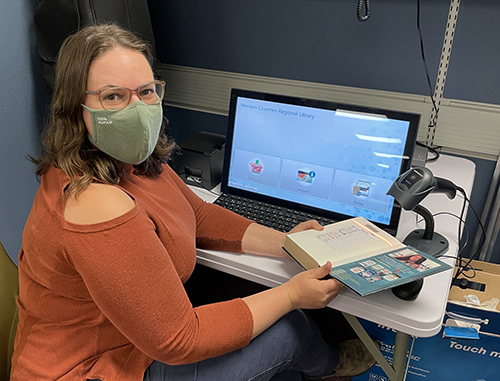 Western Counties Regional Library's new self-checkout machines are in service at library branches in Barrington, Digby, Meteghan (Clare), Shelburne, Weymouth and Yarmouth.Shannon Raynard, Training and Development Manager for Western Counties Regional Library, demonstrates the self-checkout machine being set up in six library branches.
"The machines allow library users to pick up their holds and check them out themselves, much like self-checkout machines at retail stores," says Shannon Raynard, Training and Development Manager for the regional library.
In preparation for the changes, library users who were picking up their holds at those branches received notices that they needed to check out their books at the self-checkout before taking them home.
For those not wishing to use the self-checkout, they can take their holds to the circulation desk to be checked out by the clerk. The library will continue to offer books by mail.
Raynard reminds people that circulation of materials matters to libraries.
"Every checkout demonstrates to the provincial and municipal governments and funders how much you value the library," she says.