Library launched its most important fundraiser Oct. 1
People have an opportunity to help their public library in a big way over the next two months during Western Counties Regional Library 2022 Adopt-A-Book campaign.
Plus d'infos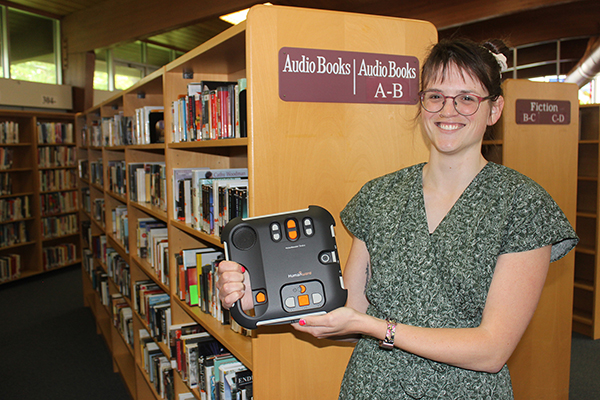 Latest technology arrives for those with print disabilities
Western Counties Regional Library has acquired the latest reader technology, providing better support and services for those with print disabilities. As of Tuesday, July 26, the Victor Stratus DAISY readers can be borrowed by any library user who self-identifies as having a print disability. DAISY readers will read a variety of formats such as .txt, ePub, .html, Mp3 and DAISY.
Plus d'infos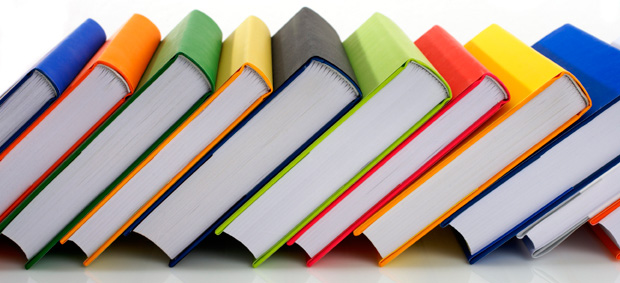 Continuous Book Sales
Find that special book to read or gift of reading to give at continuous book sales at our Barrington, Clark's Harbour, Digby, Lockeport, Shelburne, Weymouth and Yarmouth branch libraries.
Plus d'infos
MO

TU

WE

TH

FR

SA

SU
31

1

2

3

4

5

6
7

8

9

10

11

12

13
14

15

16

17

18

19

20
21

22

Puzzle Exchange

adulte

enfants

ados

Expired

Bibliothèque commémorative Isaiah W. Wilson

Toute la journée

Stop in and trade your gently used puzzle (containing all the pieces) for a new-to-you puzzle to complete.

, ...

23

Puzzle Exchange

adulte

enfants

ados

Expired

Bibliothèque commémorative Isaiah W. Wilson

Toute la journée

Stop in and trade your gently used puzzle (containing all the pieces) for a new-to-you puzzle to complete.

, ...

24

Puzzle Exchange

adulte

enfants

ados

Expired

Bibliothèque commémorative Isaiah W. Wilson

Toute la journée

Stop in and trade your gently used puzzle (containing all the pieces) for a new-to-you puzzle to complete.

, ...

25

Puzzle Exchange

adulte

enfants

ados

Expired

Bibliothèque commémorative Isaiah W. Wilson

Toute la journée

Stop in and trade your gently used puzzle (containing all the pieces) for a new-to-you puzzle to complete.

, ...

Exhibit: Coffee & Watercolours

adulte

enfants

ados

Expired

Bibliothèque Weymouth Waterfront

Toute la journée

This exhibit features small watercolour paintings by local artist Nadine Blinn. The works have been carefully curated by the artist to inspire her audience to pursue art in some form. Recently retired, the artist discovered painting. She enjoys sharing her work.

, ...

Silent Auction

adulte

enfants

ados

Expired

Bibliothèque commémorative McKay

Toute la journée

The Friends of the Shelburne Library are hosting a Silent Auction in support of McKay Memorial Library. Drop in to see the items available to bid on and make your winning bids. Bidding closes on Friday, Dec. 2nd at 5 p.m.

, ...

Adopt-A-Book Fundraiser

adulte

enfants

ados

Expired

Bibliothèque commémorative Isaiah W. Wilson

Toute la journée

The library's Adopt-A-Book campaign is the library's most important fundraiser. Taking place every two years, the campaign helps put new books on library shelves for all to enjoy. The goal is to put at least 750 new books on your public library shelves between Oct. 1 and Nov. 30. The Digby branch is holding

, ...

Snow Much Fun

enfants

Expired

Bibliothèque Weymouth Waterfront

18h30 - 19h30

This is a fun evening of playing snowmen games and creating a big snowman to display on the library window. This program is for children aged 6 to 12. Register before Thursday, Nov. 24 by contacting the library.

, ...

26

Exhibit: Coffee & Watercolours

adulte

enfants

ados

Expired

Bibliothèque Weymouth Waterfront

Toute la journée

This exhibit features small watercolour paintings by local artist Nadine Blinn. The works have been carefully curated by the artist to inspire her audience to pursue art in some form. Recently retired, the artist discovered painting. She enjoys sharing her work.

, ...

Silent Auction

adulte

enfants

ados

Expired

Bibliothèque commémorative McKay

Toute la journée

The Friends of the Shelburne Library are hosting a Silent Auction in support of McKay Memorial Library. Drop in to see the items available to bid on and make your winning bids. Bidding closes on Friday, Dec. 2nd at 5 p.m.

, ...

Puzzle Exchange

adulte

enfants

ados

Expired

Bibliothèque commémorative Isaiah W. Wilson

Toute la journée

Stop in and trade your gently used puzzle (containing all the pieces) for a new-to-you puzzle to complete.

, ...

Adopt-A-Book Fundraiser

adulte

enfants

ados

Expired

Bibliothèque commémorative Isaiah W. Wilson

10:00 am - 2:00 pm

The library's Adopt-A-Book campaign is the library's most important fundraiser. Taking place every two years, the campaign helps put new books on library shelves for all to enjoy. The goal is to put at least 750 new books on your public library shelves between Oct. 1 and Nov. 30. The Digby branch is holding

, ...

Les samedis LEGO

enfants

Expired

Bibliothèque Sénateur Ambroise H. Comeau

10h à 12h

Les enfants peuvent se rendre à la bibliothèque pour jouer avec LEGO. Ils peuvent jouer gratuitement ou participer à nos défis de construction.

, ...

LEGO Builders Club

enfants

Expired

Bibliothèque municipale de Barrington

10:00 am - 11:00 am

Use library LEGO to bring your imagination to life. Try a creative challenge or engage in free play. Bring a friend, and make new ones! This program is for children aged 5 to 12 and takes place every other Saturday beginning Oct. 15.

, ...

27
28

29

Silent Auction

adulte

enfants

ados

Bibliothèque commémorative McKay

Toute la journée

The Friends of the Shelburne Library are hosting a Silent Auction in support of McKay Memorial Library. Drop in to see the items available to bid on and make your winning bids. Bidding closes on Friday, Dec. 2nd at 5 p.m.

, ...

Puzzle Exchange

adulte

enfants

ados

Bibliothèque commémorative Isaiah W. Wilson

Toute la journée

Stop in and trade your gently used puzzle (containing all the pieces) for a new-to-you puzzle to complete.

, ...

Adopt-A-Book Fundraiser

adulte

enfants

ados

Bibliothèque commémorative Isaiah W. Wilson

Toute la journée

The library's Adopt-A-Book campaign is the library's most important fundraiser. Taking place every two years, the campaign helps put new books on library shelves for all to enjoy. The goal is to put at least 750 new books on your public library shelves between Oct. 1 and Nov. 30. The Digby branch is holding

, ...

Exhibit: Coffee & Watercolours

adulte

enfants

ados

Bibliothèque Weymouth Waterfront

Toute la journée

This exhibit features small watercolour paintings by local artist Nadine Blinn. The works have been carefully curated by the artist to inspire her audience to pursue art in some form. Recently retired, the artist discovered painting. She enjoys sharing her work.

, ...

Play Bridge

adulte

Bibliothèque de Westport

10:15 am - 12:15 pm

Adults can play or learn to play Bridge. All levels of experience are welcome.

, ...

Needlecraft Afternoon

adulte

Bibliothèque Weymouth Waterfront

1:00 pm - 4:00 pm

Join us for a fun afternoon of sewing, knitting, crocheting, rug hooking, or any projects you would like to make. Bring your own material and supplies, and register one week before each session by contacting the library. Space is limited.

, ...

Scrabble Club

adulte

Bibliothèque Lillian B. Benham

2:30 pm - 4:30 pm

Adults visit the library and enjoy a fun afternoon playing a game or two of Scrabble.

, ...

Fibre Group

adulte

Bibliothèque de Clark's Harbour

5:30 pm - 7:30 pm

Share patterns, ideas, and stories about your fibre work. Bring your own supplies. This program is for adults.

, ...

Club scrapbooking

adulte

ados

Bibliothèque Sénateur Ambroise H. Comeau

18h - 19h45

Les adultes et adolescents peuvent réaliser leur propre projet avec un groupe qui souhaitent partager des idées et des projets. Chacun est responsable de ses provisions. Remarque : Les participants doivent s'inscrire avant 16h le jour du programme.

, ...

30

Exhibit: Coffee & Watercolours

adulte

enfants

ados

Bibliothèque Weymouth Waterfront

Toute la journée

This exhibit features small watercolour paintings by local artist Nadine Blinn. The works have been carefully curated by the artist to inspire her audience to pursue art in some form. Recently retired, the artist discovered painting. She enjoys sharing her work.

, ...

Silent Auction

adulte

enfants

ados

Bibliothèque commémorative McKay

Toute la journée

The Friends of the Shelburne Library are hosting a Silent Auction in support of McKay Memorial Library. Drop in to see the items available to bid on and make your winning bids. Bidding closes on Friday, Dec. 2nd at 5 p.m.

, ...

Adopt-A-Book Fundraiser

adulte

enfants

ados

Bibliothèque commémorative Isaiah W. Wilson

Toute la journée

The library's Adopt-A-Book campaign is the library's most important fundraiser. Taking place every two years, the campaign helps put new books on library shelves for all to enjoy. The goal is to put at least 750 new books on your public library shelves between Oct. 1 and Nov. 30. The Digby branch is holding

, ...

Puzzle Exchange

adulte

enfants

ados

Bibliothèque commémorative Isaiah W. Wilson

Toute la journée

Stop in and trade your gently used puzzle (containing all the pieces) for a new-to-you puzzle to complete.

, ...

Mid-Week Break: Undeniable Relations

adulte

enfants

ados

Bibliothèque commémorative Izaak Walton Killam

12:00 pm - 1:00 pm

Join Yarmouth native and Halifax resident Bruce Bishop, in-person and via Zoom, as he discusses Undeniable Relations, the third book in his Nova Scotian family saga trilogy. Undeniable Relations is set in Yarmouth in 1956 through 1958, when tourism was big business with the arrival of the MV Bluenose. His tale of ficti

, ...

Board Game Afternoon

adulte

Bibliothèque commémorative McKay

14h - 16h

The days are cooling down, and we're all getting back into routines, including some game play. Put us in your calendar, and spend some time playing chess, checkers, Scrabble, Yahtzee and more at the library. This program is for adults.

, ...

1

2

3

4
Événements
22nd
Toute la journée
Bibliothèque commémorative Isaiah W. Wilson
Événements
23rd
Toute la journée
Bibliothèque commémorative Isaiah W. Wilson
Événements
24th
Toute la journée
Bibliothèque commémorative Isaiah W. Wilson
Voir plus d'événements